Revised Reopening Plan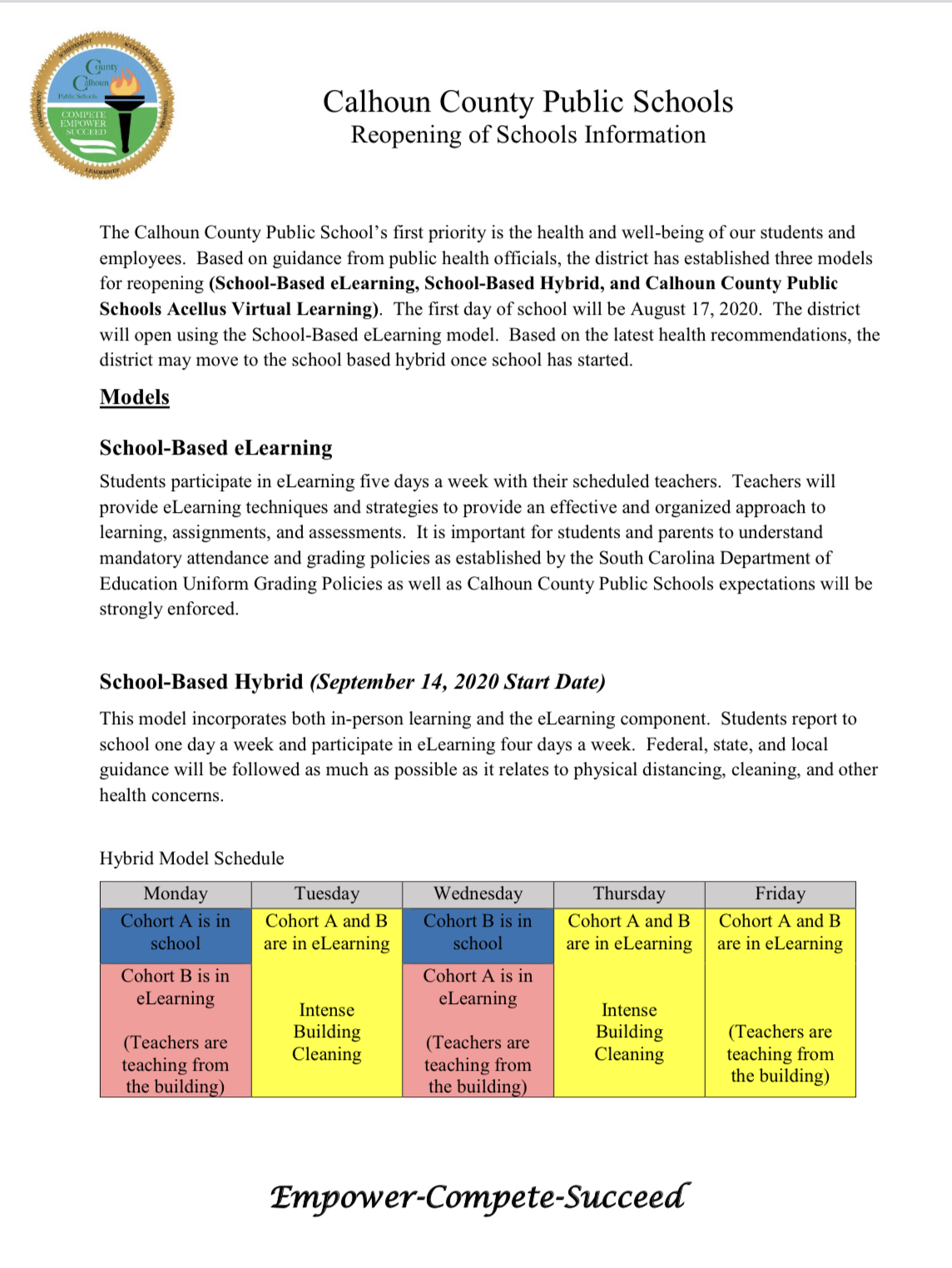 PDF version of the above Revised Reopening Plan

---
Covid School Reopening Protocols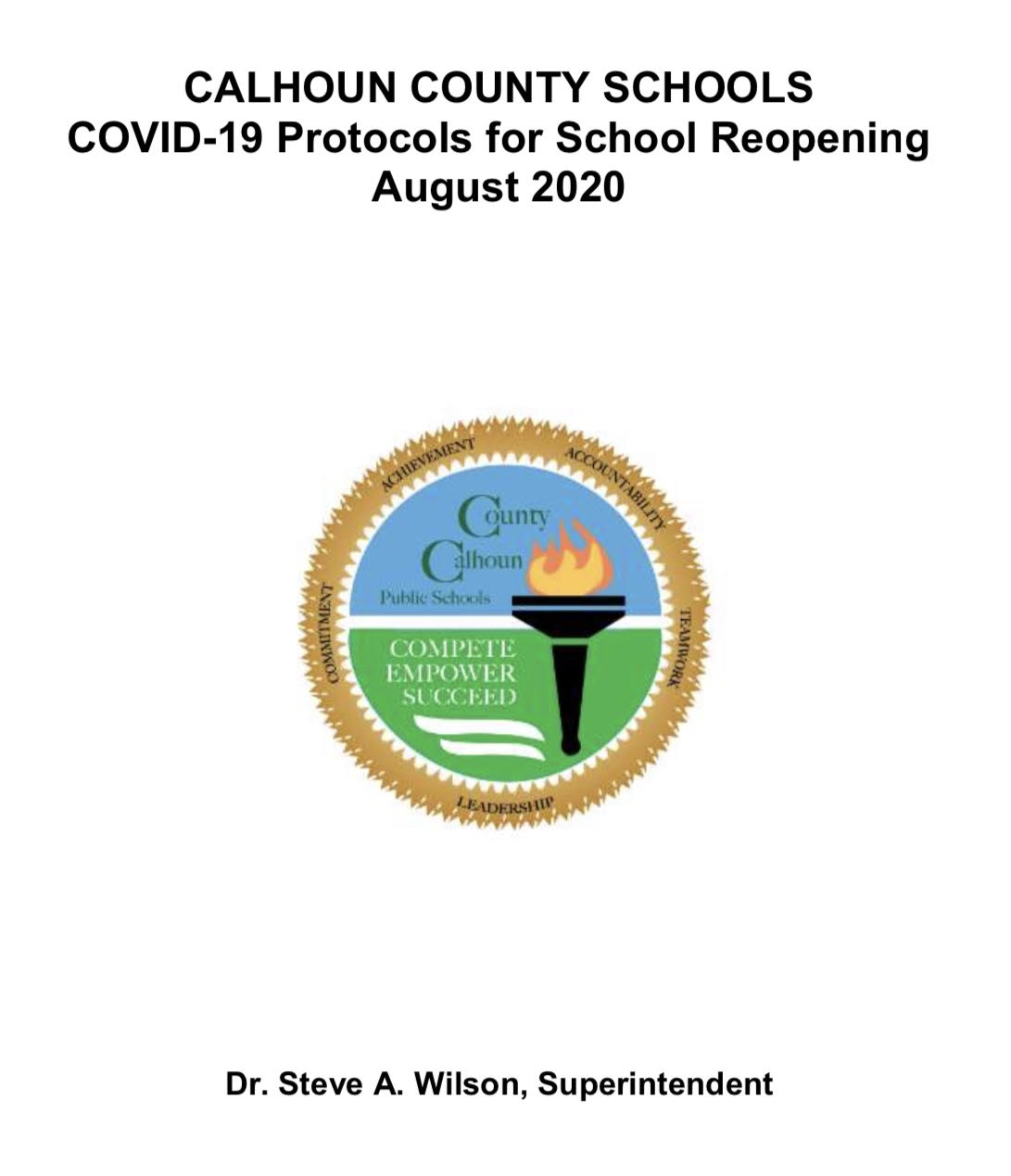 PDF version of the above Reopening Protocol Booklet
---
Welcome Back Letter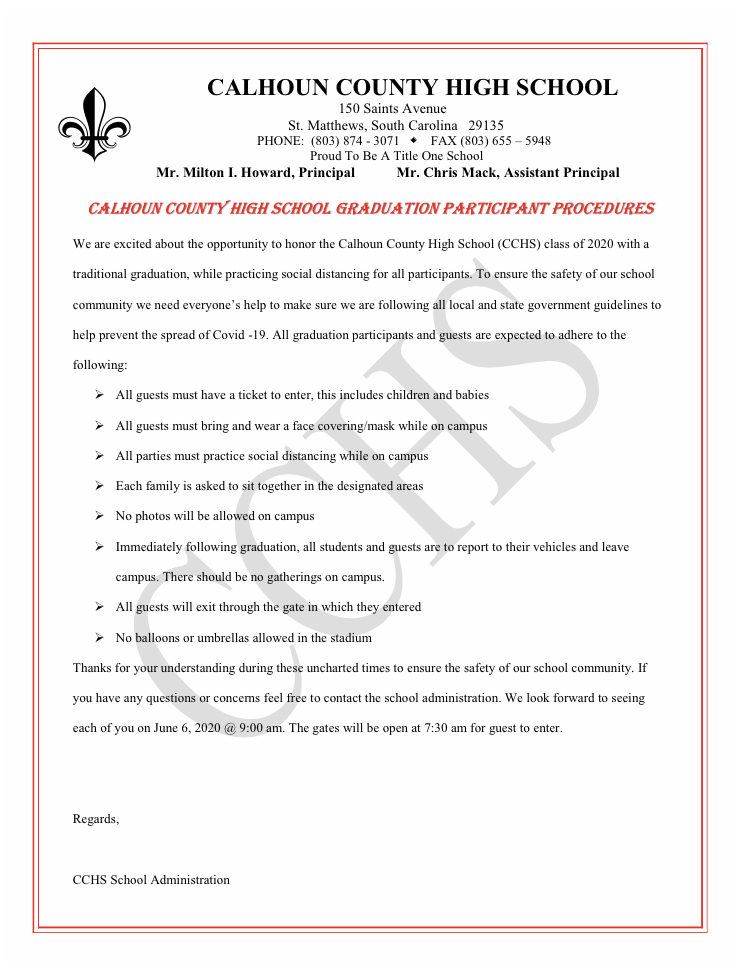 PDF version of the above Welcome Back Letter
---
2020-2021 District Calendar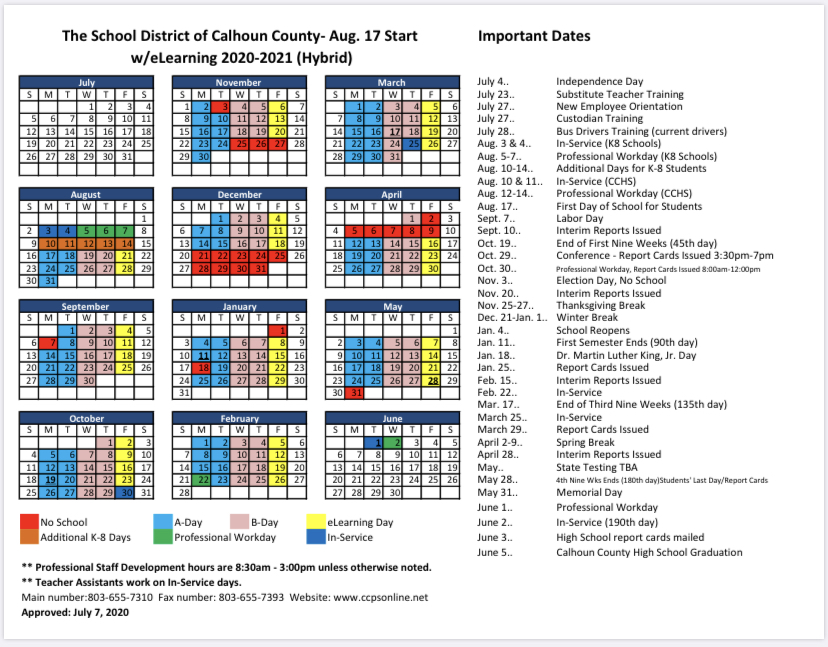 PDF version of the above Hybrid District Calendar showing A and B
Student Groups for face-to-face days of instruction.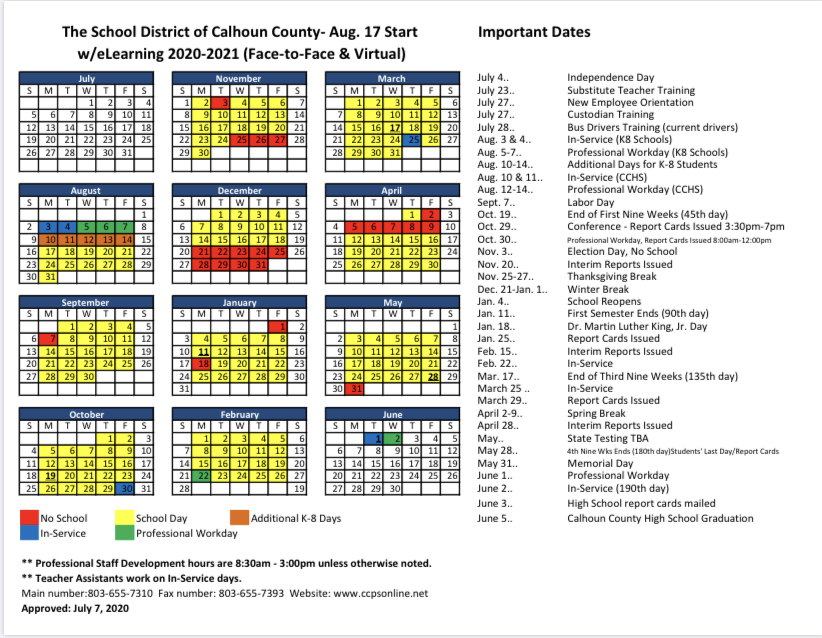 PDF version of the above Face-to-Face and Virtual Calendar showing 5 days of traditional face-to-face days of instruction.

---
2020-2021 Schools Reopening Models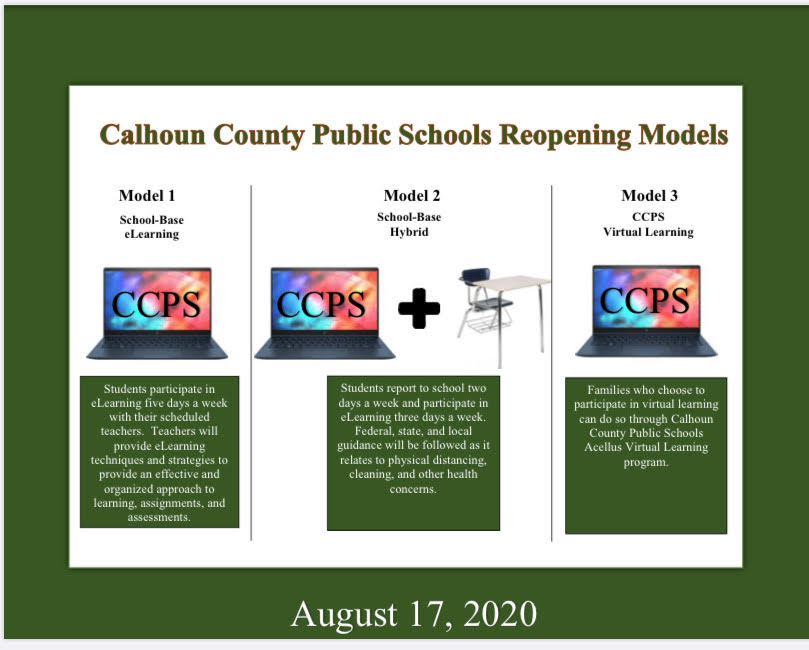 PDF version of the above Schools Reopening Models image
---
2020-2021 Registration Packet
Parents will need to complete a Registration Packet for each student to be enrolled at CCHS for the 2020-2021 school year.
---
Welcome to Calhoun County High School!
Class of 2020 Senior Tribute
(click picture)
---
Greetings CCHS Parent and Guardians
The Governor and State Superintendent's order for school closure for the remainder of the 2019-20 school year has forced the District to alter graduation plans.
The District is currently exploring two options to recognize and honor our seniors.

Option 1
If safe and lawfully allowable, a traditional ceremony will be held on the football field on June 6, 2020. This ceremony will include social distancing for our students and social distancing for a limited number of their guests. Graduates will receive 4 tickets each. All participants and guests will be required to wear a face covering.

Option 2
If we are unable to proceed with a traditional ceremony, a virtual ceremony will be produced to be aired across the World Wide Web at a later date.
Please know that we understand the impact this may have on some of our graduates, but with the current circumstances we live in, this is the best option to ensure the safety of our school community.
---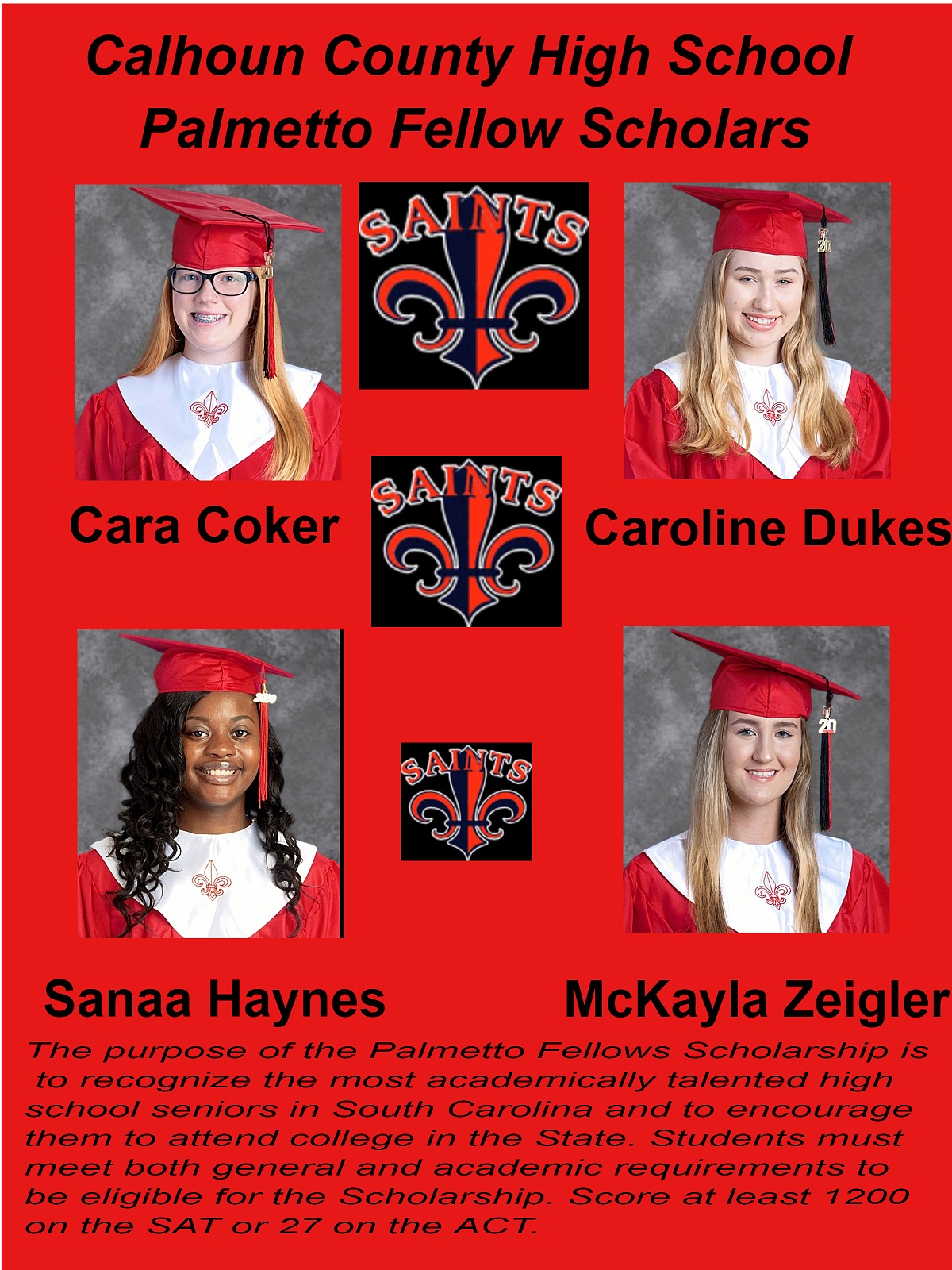 ---
It is our pleasure to announce

the Lower Savannah Region WINNERS


The 2020 Career & Technology Education "Technology Champion" Award

SANAA HAYNES

Calhoun County School District

Calhoun County High School

The 2020 Work-Based Learning Student

QUINTON DANTZLERCalhoun County School DistrictCalhoun County High School

Sanaa will represent Calhoun County High School and the Lower Savannah Region

at the Education Business Summit

Greenville, SC

July 20th




Please join us in

CONGRATULATING THEM!
Calhoun County High School Family,
We have the following important updates for you:
· Tomorrow, Wednesday, March 18, Calhoun County High School will be open from 9:00 am to 6:00 pm for parents or students to stop by and pick up copies of the instructional packets. The packets contain activities and assignments to last through March 31st from each of your student's teachers.
· The same instructional packets are available online in your student's google classroom as well. If you or your student are able to access the instructional packet online, you DO NOT need to come to the high school to pick up the same packets. We strongly encourage people who can avoid coming out to the high school, due to having access through google classroom to not come to the high school.
---
Quinton Dantzler
Securing His Career Before Graduating from High School!
One of our outstanding seniors, Quinton Dantzler, who will graduate from Calhoun County High this June 6th will actually have his first graduation ceremony at OCTECH in May! How could this be you say? Quinton has started his future in the Transportation Field by beginning his coursework in the Professional Truck Driving Department at Tech this month. He actually took it upon himself and went out on his own to start working on his dream career months earlier by researching what it takes to begin the actual certification process. Quinton went ahead and secured both his D.O.T. (Department of Transportation) physical along with his South Carolina Commercial Beginner's Permit even before meeting with Sandra Moore, Dean of Continuing Education, Corporate Training & Economic Development at OCTECH. That's impressive! When a student asked Quinton what his ultimate career goal in trucking might be, he responded "to have my own trucking line one day". Our school district is happy to say his future is on the right track and starts now!
---
Congratulations to our 2019-2020 District Teacher of the Year, Mr. Christian Snell!!!!!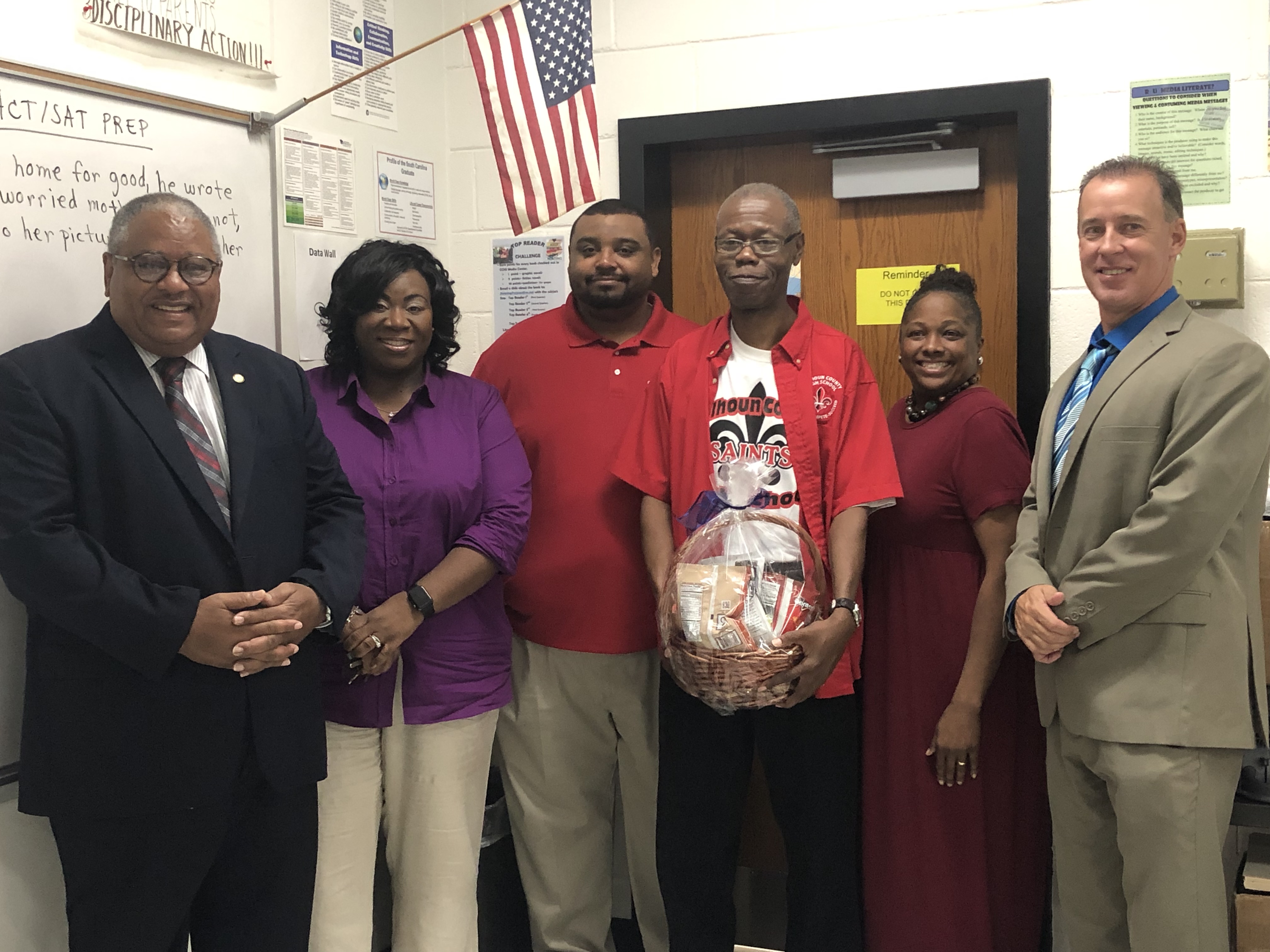 ---
Our Mission
The mission of Calhoun County High School, in unity with parents and community, is to provide an environment conducive to learning that challenges all students to reach their maximum potential for success in a rapidly changing global society.
Our Vision
We envision a school district where everyone works harmoniously in a safe and caring environment to help all students reach their maximum potential.
Our Beliefs

We believe...
In establishing and maintaining high expectations for all students.
Every student can learn and be successful.
Every student is responsible for his/her choices and actions.
In providing challenging and rigorous experiences to develop confident and competent students.
In fostering cooperation and collaboration to promote engaging learning experiences.
In an environment that appreciates and encourages diversity.
Change provides opportunity for growth.