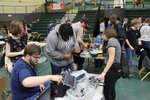 Robotics Team Competition
The Calhoun County High School Robotics Team participated in the 2017-18 Vex Robotics Competition in the Zone. The object of the game was to score a higher than the opposing Alliance by Stacking Cones on Goals, by Scoring Mobile Goals in Goal Zones, by having the Highest Stacks, and by Parking Robots. Each alliance consisted of two teams from different schools across the state. The team took part in the Final Countdown - VEX Viking Duels tournament at Spring Valley High School.
CCHS had two teams, Code Red and Cyber Saints, to represent them in the tournament. The two teams consisted of 11 students all together. Logan Matoon, Je'Torian Williams, Guye Guinyard, Stephen Robinson, and Josh Ziegler were all part of the build team. Fatima Kenly and Guye Guinyard were the two main programmers. Cassidy O'Rangers was the organizer. Austin Carter was the team's all around project manager and Kayla Lee was the person in charge of the engineering notebook and sketches.
Together the students built two robots named, Steven and Amethyst. Steven was duel controlled by Je'Torian Williams and Guye Guinyard. While Amethyst was dual controlled by Logan Matoon and Joshua Zeigler. Stephen Robinson was the alternate driver. In the end of the competition in which the two robots and teams participated, both managed to place in the top 30 of the rankings.